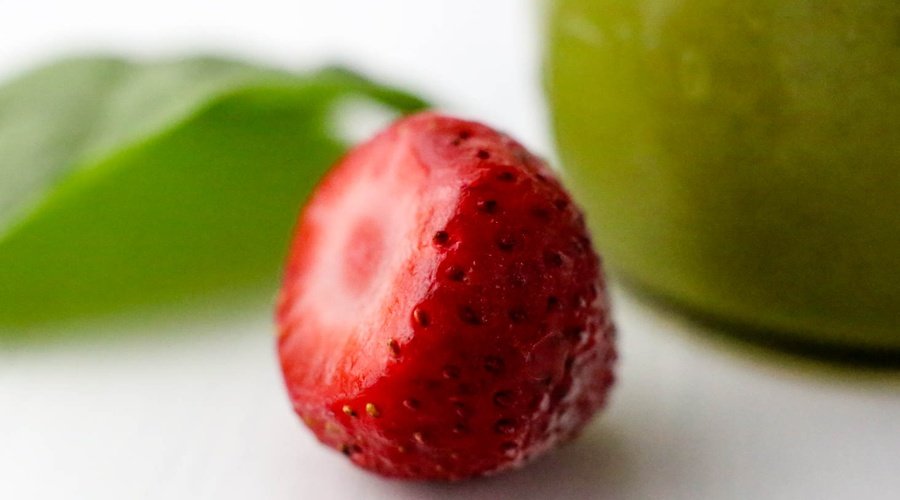 Strawberries are small red fruits that grow on shrub-like, flowering plants. Strawberries are most often cone or heart-shaped, with green leafy caps. They are dotted all over their outer flesh with small edible seeds. Ripe berries are bright red in color and are plump, juicy, and sweet flavored. They also have a delightfully sweet fragrance emanating from them when ripe.
Can I blend the leafy strawberry tops?
Yeah, it's perfectly fine. There's some extra vitamins and minerals in there just like other leafy tops.
Does it taste great by itself? No, but you shouldn't notice it when blending it with the rest of the strawberry.
Strawberries are seasonal, so the price can vary widely. When fresh strawberries are insanely overpriced, there's nothing wrong with grabbing the frozen strawberries from the freezer. A lot of people even use frozen strawberries year round because of their cheap price.
If you have a strawberry farm nearby, see if they have a time of the year when you can pick your own strawberries. This is usually a great way to get super cheap, fresh, and delicious strawberries that you can then freeze yourself.
They're definitely a staple ingredient for a lot of people, because so many think of strawberries when they think of a smoothie.
---
Smoothie Recipes with Strawberries
---
Strawberry Flavor Pairings